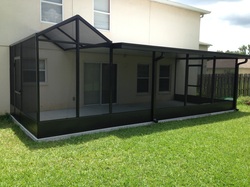 Adding a screen room is not just a home improvement, it's a lifestyle improvement. Screen rooms are designed for keeping bugs, leaves, and yard debris out of your patio area. Your patio now becomes a usable, functional space.This will become the focal point of all of your family's outdoor activities.
The size and shape of your room is only limited by your imagination. We at Screen Crafters Coastal have been designing creative screen additions for over 20 years. We are confident that we can build a room that will not only be be functional, but also a beautiful complement to your home.
Any room can be designed to be "pet Friendly", we offer a durable pet screen that has been designed to withstand the abuse of small pets, and with the addition of a secure pet door, your pets are free to come in and out as you decide.
---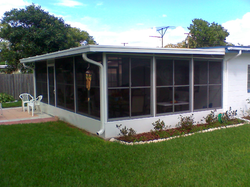 Due to the extreme heat in Florida an insulated roof is is a welcome addition to any of our screen rooms. The "Elite Inter-Lock Roof System"is a three inch thick composite panel, it is a highly insulated core material of expanded polystyrene and is impervious to moisture and mildew. During heavy rains the sound of the rain hitting the top of the roof is minimal when compared to the older "pan/tin" roof. This is due to the density of the 3" thick panel. The "Elite"panel also comes with a manufacturer's 10 year warranty against cracking, peeling, blistering, or de-lamination.
For additional comfort to you and your guests, ceiling fans and lights can be mounted without any visible wiring. Your new screen porch begins with a call to 386 481 3433 for a free in home estimate





---