Whether you are looking to improve the look of your home or just want to add additional living space. Screen Crafters Coastal is capable of customizing any style sunroom to not only match your home but to enhance its appearance as well.
Sunrooms are the ultimate expression of Florida living. With a sunroom you have the ability to enjoy the use of your space any time of the year, day or night, regardless of whether it is hot or cold outside.
Our custom designed sunrooms can be installed with the option of our high impact glass or our 4mil acrylic and can be clear, slightly tinted or dark for highly exposed areas to the sun.
---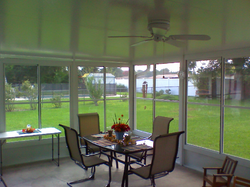 In addition to a glass sunroom, an excellent compromise for someone wanting to keep out the elements and still enjoy the out doors at a fraction of the cost, is a vinyl sunroom. This is a room that has been designed to the same specs as our quality screen rooms with the advantage of vinyl sliding windows installed into the openings.The greatest benefit comes on the not so nice days. The rainy days, the pollen days, the cold, nasty windy days when you would usually lose the use of your porch. Just close the horizontal or vertical sliders and achieve instant protection from cold, wet and dusty elements. The vinyl windows are also completely removable and, if desired, can be removed in minutes and stored during summer months giving you back your screen porch.
---